GET TO KNOW US
Our recipes here at Sally Sherman Food, have been coddled and honed over the last 40 years, and are the standard of acceptance in the refrigerated salad category. With our new USDA plant and the best Chefs around, we offer some of the tastiest salads you ever tasted.
Times do change and so has Sally Sherman Foods. To go along with our tried and true test recipes like Potato Salad, Macaroni Salad and Cole Slaw, our new offerings include the super food Quinoa, Grain, and fresh Vegetables. Our salad choices are focused on a more crisp and clean flavor profile to meet our consumer's sophisticated palate.
If you have not tried us lately and your taste buds nostalgically remember our Tuna Salad, Egg Salad and Seafood Salad, "Please Try Us Again", and our whole new line of salads, desserts, and sauces.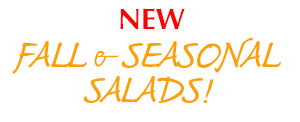 Ancient Grain Salads: Hearty, healthful grains with fresh, global flavors ready to grab-and-go for a modern lifestyle.


Learn More


Papa Miguel Salads & Quesadilla: Festive flavors in easy grab-and-go portions to enjoy anytime.


Learn More


Classic Salads: Longtime favorites with farm-fresh flavor, these grab-and-go salads are perfect whether you're enjoying solo or serving a crowd.


Learn More