Get to Know Us
We spent the last year remaking and fine tuning your favorite salad company and we are eagerly prepared for another 40 plus years. If you have not tried us lately and your taste buds nostalgically remember our Potato Salad, Macaroni salad and Cole Slaw, "Please Try Us Again".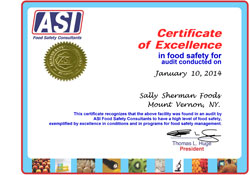 New Seasonal Offerings
Look for our New Seasonal Offerings coming soon for Spring 2014 - Gemelli Florentine and Chick "Ceci" Pea Salad.
Available for this Summer Season...
We have listened to our customers and we are pleased to announce the return of the Sally Sherman 1lb Retail Size Containers in our Classic Potato , Macaroni and Cole Slaw varities.

Our 2lb retail containers will also be available for the family table . . .Enjoy!